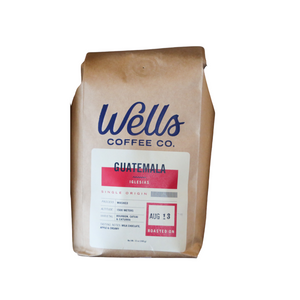 Varietal: Bourbon, Catuai & Caturra
Altitude: 1800 meters    
Processing: Washed
Taste: Chocolate, Apple & Spicy
The famous ancient city of Antigua contains over 43 churches, so it is not surprise that this special coffee gets the brand "Iglesias." Antigua Iglesias comes from the Plantation Santo Tomas and El Vallecito. Both are located in Ciudad Vieja in the state of Sacatepéquez at the slopes of the Volcano Agua. The coffee grows under Gravilea trees in rich volcanic soil. After harvest, the coffee is brought to the famous mill, Concepcion Escuintla. During the coffee's time at Concepcion, it is sundried on patios, separated by size, density, and color. The result is a superior coffee with extreme complexities.